Meet Dr. Shimura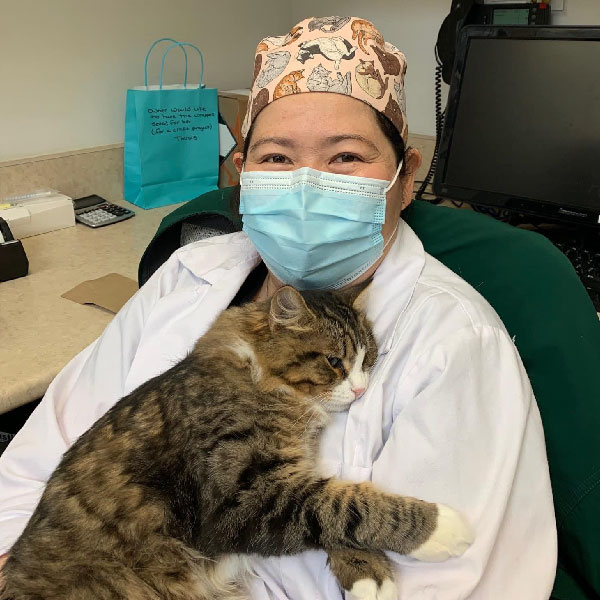 Dr. Priscilla Shimura, DVM
Dr. Priscilla Shimura is a highly qualified Veterinarian Associate who specializes in emergency medicine, surgery, and ultrasound. Her impressive educational background includes a residency in public health at VPH, a PhD in immunology and microbiology, and a previous role as an RVT. Dr. Shimura completed her internship in surgery, specializing in oncology, and has a post-doctoral fellowship in Gastroenterology, Hepatology, and Nutrition. She is also Cat Friendly certified and Fear Free certified.
Dr. Shimura's passion for veterinary medicine stems from her belief that being a veterinarian is all about love, understanding, patience, and compassion. She enjoys playing detective and putting the pieces of the puzzle together to figure out what's happening with her patients. Her favorite part of the job is being able to help families and their pets through difficult times.
Dr. Shimura's furry family includes a chow/shepherd mix dog named Simba, a 13-year-old dachshund called Nico, a Siberian Husky called Luna, and a tuxedo cat named Kichi. She also has three fish named Tomato, Nemo, and Yellow.
Dr. Shimura's contributions to the scientific community have been recognized with several awards, including training grants from the Brazilian Scientific and Technical Developments, the National Health Surveillance Agency, and the Pan American Health Organization. With her expertise in emergency medicine, surgery, and ultrasound, Dr. Shimura is committed to making the world a safer place for both humans and animals.